HALF ASS ACRES HARLEQUIN JACK"
A MINIATURE DONKEY JACK
WITH HIS NEW OWNERS!


HALF ASS ACRES HARLEQUIN JACK
Foaled 7-11-99 7:30pm
Sire: Fisher's Great Gildersleeve, aka. Indiana Jones
Tri-colored 32 1/4" jack
Dam: Half Ass Acres Christy
Dark Gray-Dun 32 1/2" jennet
This little jack is a full brother to
Half Ass Acres Alanis Morisette
ACOSA National Grand Champion Spotted Jennet
Harley's foal coat is chocolate brown, white, and gray spotted!!
Not quite 22" at 3 days old...he wouldn't be still so
he may be smaller - I would rather guess high than low!
Per Pat Scanlan our donkey tree expert: Harley is the ninth generation
of his family and 112 of his ancestors are listed in the donkey tree.
They go all the way back to the great Luigi!!

Congratulations to Marlene, Mike, and Deanna Lenker of North Carolina!
Click here to visit their web page...Harlequin Farms!!
Here is Harley at 2 weeks old!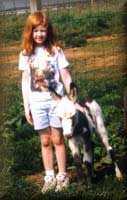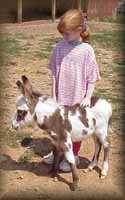 Harley and Deanna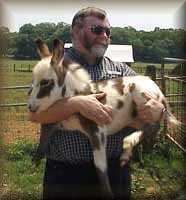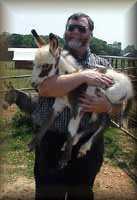 Harley and Mike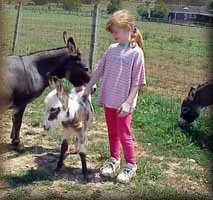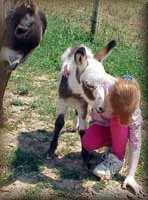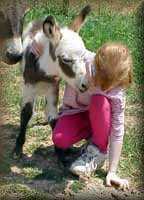 Harley gives Deanna a kiss!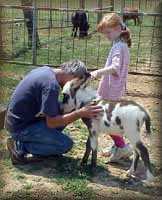 Joe tells Harley goodbye (in six months)!
Click here to return to the "Donkeys Sold" page
...or just hit your 'back' button

- Other Pages -
You Are On Our "HARLEQUIN JACK WITH NEW OWNER'S" Page Now!
Click the donkey to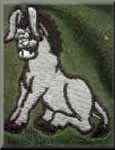 visit our Guest Book!
Last Updated: 5/02/2002 2:41pm
Web Design by Dayle Haworth
Copyright © 1995-2010 ~ HAA Miniature Donkeys ~ All Rights Reserved